The Anti-ghosting method
No replies from your leads?
=> This anti-ghosting method never fails. It works every single time. It's your turn to follow these easy steps, it's all been outlined in detail for you right here!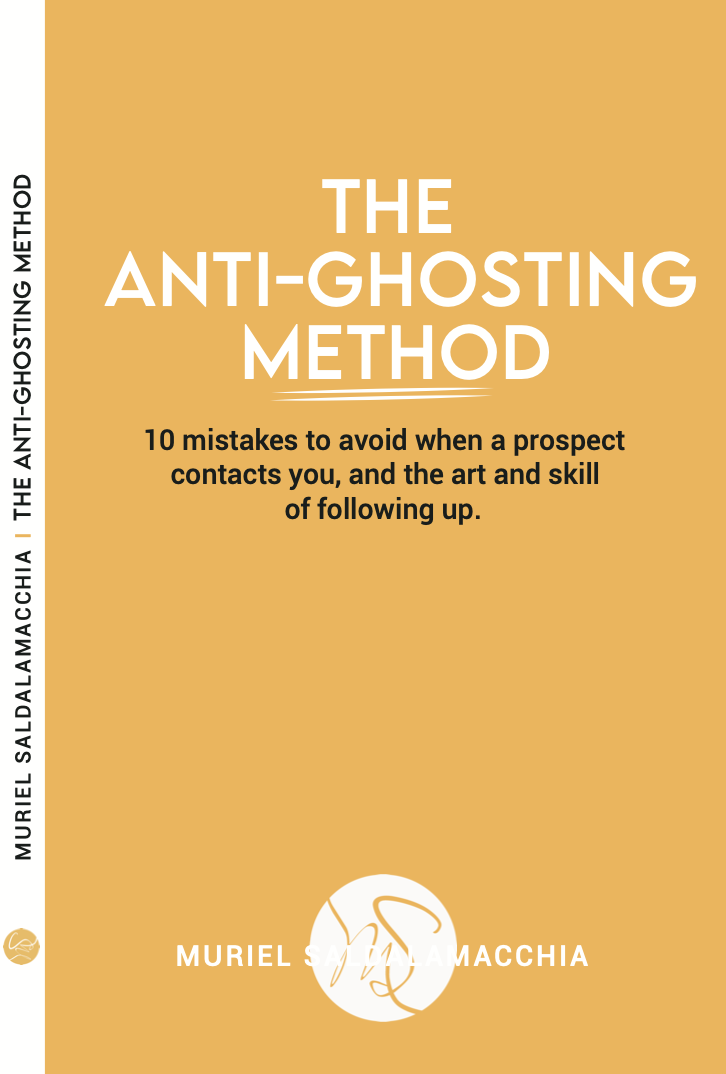 Let's picture this situation: you receive lots of emails or messages through your website, but only one or two accept to schedule a call, and even fewer decide to hire you. Does this situation sound familiar to you? To help entrepreneurs to grow their business and maximize their income, Muriel Saldalamacchia, ranked among the world's top 20 luxury planners, has published the book "The anti-ghosting method".
After writing a white paper about the theme in 2014 that has been downloaded by 6,681 wedding industry professionals, Muriel Saldalamacchia decided to go deeper and turn it into a book. "If you apply these methods, you will be guaranteed to radically change your future as an entrepreneur", she guarantees.
The method is like an ABC, a score of music to play instinctively. Since it is based on human behavior, it works on any social or professional categories. Muriel Saldalamacchia taught this method to various entrepreneurs for a decade and it works 100%. Those strategies are real game changers for anyone willing to increase sales and revenues.
"While expanding my business, I had the opportunity to work on other continents, with different cultures by becoming a conference speaker. And you know what? The mistakes that we tend to make with the prospects who contact us are exactly the same whether we are American, European, Indian, or Emirati entrepreneurs", says Muriel Saldalamacchia.

Five chapters, each including several sections:
Introduction
it's all from personal experience.
I. Your professional environment
This is all about you
II. The big no-no's
10 mistakes on review
III.The art & skill of following up
Where being shy is not an option.
IV. The worst inquiries ever received, and yet
Fun stories that worked!
V. How to master the art of selling (bonus)
On your way to success.
INTRODUCTION
"Whatever power kings have, they are but human: they can err as readily as other men."
Pierre Corneille, Le Cid.
It was primarily as an entrepreneur that I ran into my first brick walls. There's no doubt about that. Before embarking on my business adventure, I was cozily working for large French and multi- national corporations that spoon-fed us ready-to- use work processes that did not need to be ques- tioned nor improved since others were paid to do that. If we failed to reach our goals after following the procedures in place, well, surely the problem was not ours… it most likely stemmed from that guy in charge of marketing or the one in sales…
Okay… but then I started wearing my own business hat, so all of a sudden it became harder to hide behind the corporate ladder. If I failed to turn a lead into a client, my revenues quickly reduced to virtually nothing, which defeats the whole purpose of running a business, right? Besides, I hated it when my reply to an inbound inquiry from a potential prospect fell on deaf ears and remained unanswered. I was convinced that if a couple took the time to engage with me, regardless of the rather disinterested tone of their initial message, they were surely sending out a strong buying signal.
In any event, back in 2000, the act of being ignored by a potential client did not really have a name to go by. In more recent years, this phe- nomenon was coined as "ghosting". In plain English, ghosting is when the person you've been in contact with suddenly falls off the radar, stops responding to your proposal and simply disap- pears into the ether. This of course makes no sense since they are the ones who reached out to you in the first place clearly in search of a service you can provide them.
So I had to take a step back and put my think- ing cap on. What I had to do before anything else was to put some systems and processes in place. That's my nature. To organize and take the necessary steps that lead to success.
Let's be honest, as a former high-level athlete (albeit at amateur level), I never particularly stood out for my talent. However, I managed to reach my goals thanks to my ability to sustain repetition until the techniques I had put in place came to fruition. If a particular method didn't work, I would simply change it; until I found the one that led to success.
Once embedded in me, I reproduced it tirelessly, even to the point where I took great pleas- ure out of it.
That's how – among other things – I became an entrepreneur. I needed to create my own proc- esses and my own methods to avoid repeating mistakes when a prospect contacted me.
And I made it. No more ghosting! Surely if it worked for me, it had to work for others.
It's only later on, when meeting in my academy with a great many wedding professionals from across the country -most of them wedding planners- that I realized the following: too often, professionals faced failure from the very first contact with their prospective client because of recurring mistakes, a fact that over than 85% of them were completely unaware of.
While expanding my business, I had the oppor- tunity to work on other continents, with different cultures by becoming a conference speaker -always in the wedding industry – specializing in destination weddings. Just to spice things up a bit.
And you know what? The mistakes that we tend to make with the prospects who contact us are exactly the same whether we are American, European, Indian or Emirati entrepreneurs.
So in 2014, I decided to write a white paper very en vogue back then- in which I defined my own personal added value, my seal, namely my expertise and wholehearted commitment in get- ting a contract signed with almost every single prospect who contacted me.
In the space of three years, from 2014 to 2017, you were 6,681 wedding industry professionals to download my white paper, "7 mistakes not to make when a prospect contacts you".
That's a success I had, of course, hoped for but I have to say that to this day, it still gives me a bit of a high when I think that this publication was initially intended for wedding-planners only.
When I wrote it, I dared to hope that it would become the backbone of my academy's blog at the time "Succeed in the Wedding Industry©" #RDLM (acronym based on its original name in French "Réussir dans le Mariage©"). It was the very expres- sion of the fact that I could offer relevant advice that would become useful to many colleagues.
To date, #RDLM remains unrivaled in its field. Undoubtedly, the book of the "7 mistakes" has much to do with that success.
We are now in 2021, and after two years of recess, I decided to resuscitate this book.
At a time when social networks make it every time easier for potential customers to find and connect with you, while dealing with an increasing number of professionals on the market, it became apparent to me the need to fill the gap by providing new, powerful, and efficient solutions, readily accessible to most.
As a result of that, three new common mistakes have been added to the original seven sins. Mistakes that I encounter regularly during my training sessions; mistakes directly linked to the world we live in.
So, in short, what exactly can you expect to find in this book?
An anti-ghosting method.
You are about to have direct access to a tested and approved method. Tested and approved by me, obviously, but also by a wide array of fellow wed- ding planners who have put into practice the advice and methods provided in this book.
So if you're fed up with receiving requests for quotes from prospects via email or through a referral platform, that are not followed through, then this book is for you!
First of all, after helping you define your own work environment (leads, prospects, buying sig- nals, social media etc.), this book will highlight the 10 mistakes to avoid whenever you are being contacted. We will then cover case by case the basis the art of selling, how and when to follow- up, only to end with a glorious selection of the worst emails I ever received, even though they all eventually led to the signature of a contract.
You got it: I take great joy in helping my peers. I take great joy in helping you.
This book #anti-ghosting has one sole objective: to enable you to grow your business and maximize your income. If you apply these meth- ods, you will be guaranteed to radically change your future as an entrepreneur.
Shall we start then?
Let's go… ghosting is dead!
Insightful technical tips, using a pleasant tone and approach.
In addition, at the end of each section, you will have access to quick-reference-aide-memoires « Keep in mind » , « Note to Self », in order to take action more effectively after each topics.

Simple, effective, a must-to-read to not miss any more prospect
JT.Laborde. Sales Coach in AT
"This book is a reference for every entrepreneur"
L.Jandia. Event Company owner, team of sales and production
"A book that will help more than one!"
L.Borelli. Entrepreneur Cake-Designer
"Technical, practical. To be placed in hands in each entrepreneur, whatever the field"
G. Cahoreau. Entrepreneur and Entrepreneur-to-be Educator
"A book full of tips to not miss any more prospects!"
J. Huette Corporate and private Event Manager. Entrepreneur
"The following-up part is my favorite. I learned things that I'm going to put into practice."
A. Deffuant. A.T. Start Up Entrepreneur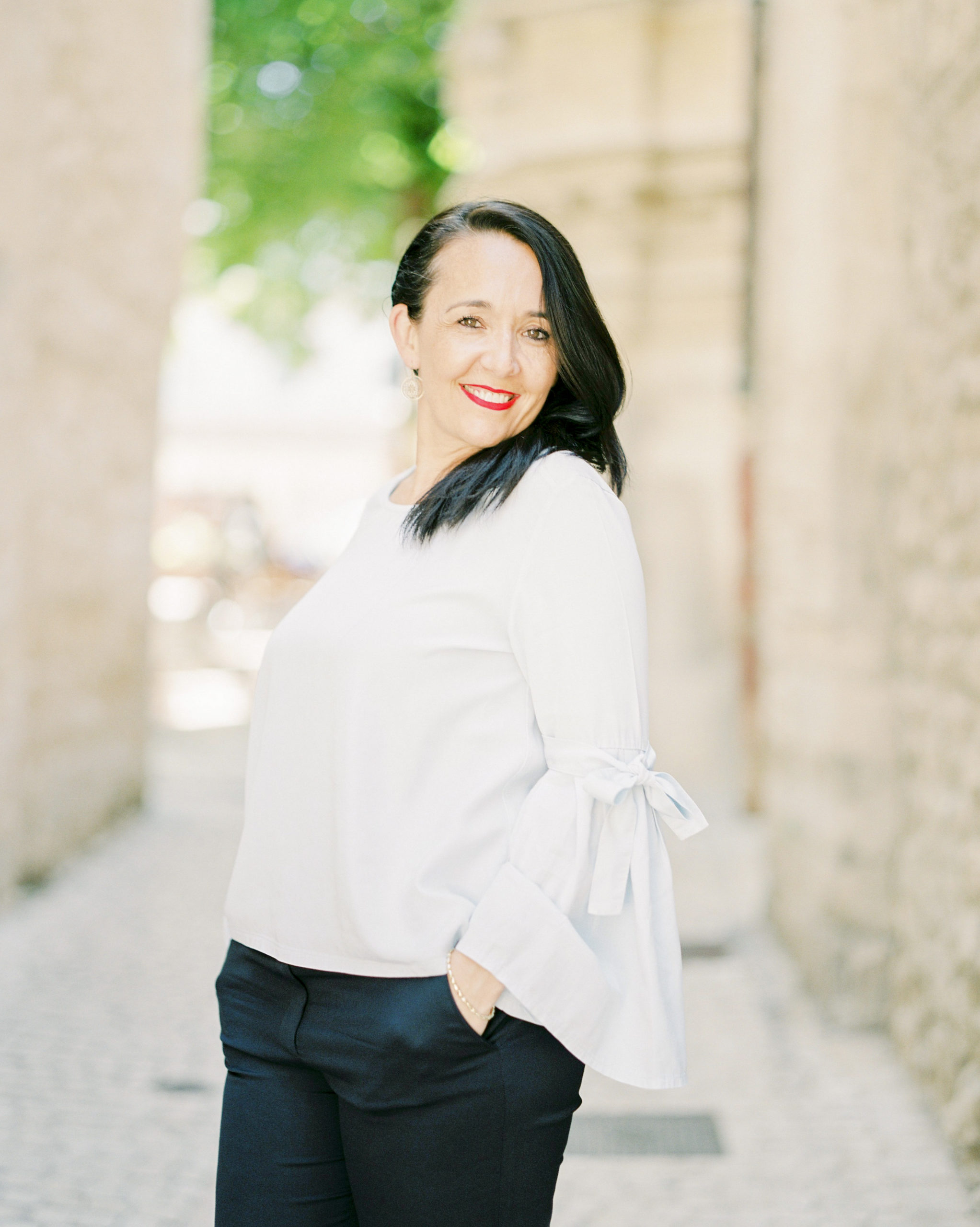 Ranked among the world's Top 20 Luxury Planners, Muriel Saldalamacchia is an internationally acclaimed wedding-planner who provides an unsurpassed guest experience to a discerning clientele in search of excellence.
Muriel leveraged her experience while running two successful businesses and working alongside other wedding planners.
But that's not all. The Muriel Saldalamacchia brand also offers professional training courses, effective master classes and technical workshops.
In the professional academy named after her, Muriel coaches students through master classes and workshops using innovative techniques that she puts in practice in her day work, techniques now used by hundreds of fellow entrepreneurs who have completed her syllabus.
Read, listen and learn from Muriel Saldalamacchia, recognized as a leader by her peers in the industry in America, Europe, Asia and the Middle East since 2016. Always present in international conferences, in various podcasts, publications and articles,
Muriel is always there to help you quench your thirst for knowledge, your need to learn every day more and grow as a professional along with your peers.

« THE CLIENT SERVICE EXPERIENCE IN A WORLD OF EXCELLENCE »
Upcoming book!
How to satisfy our dream clients expectations when they know how to buy services of excellence, and how you could to stand out of the crowd for this !